LG UX-4500 pinouts
The connector/pinout information may be applied to the :
Vendor: LG
LG Corporation, formerly Lucky-GoldStar, is a South Korean multinational conglomerate corporation. LG Electronics' products include televisions, home theater systems, refrigerators, washing machines, computer monitors, wearable devices, smart appliances, and smartphones.
Device name: UX-4500
Headsets and Headphones
There is one pinout found for LG UX-4500.
The pinout (pin-out) is a cross-reference between the contacts (pins) of an electrical connector and their functions. The link to appropriate pin assignment diagram is listed below.
An electrical connector, is an electro-mechanical device used to join electrical terminations and create an electrical circuit. Electrical connectors consist of plugs (male-ended) and jacks (female-ended).
The connector associated with this device :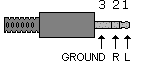 3 pin stereo plug connector