NEC 525 pinouts
The connector/pinout information provided here is applicable to the following device:
Manufacturer: NEC
Device name: 525
There are 2 pinouts found for NEC 525.
The pinouts (pin-outs) are a cross-references between the contacts, or pins, of an electrical connectors and their functions. The links to apprpiate pinouts shown as a table or diagram are listed below.
Universal Cell Phone 3-pole (mono) headset connector pinout

cordless/cell phones headset/handsfree cable connector

NEC e313, e525, N8, N8i, e606, e616, e616v, e808, n341i, e228, 338 cell phones cable connector pinout

for 525, 515, c313, e313, e525, e530, e535, e606, e616, e616v, c616v, e228, e808, e808s, e808y, n331i, n341i, n400i, n410i, n530i, n550i, n590i, n630i, n8, n700, n710, n830, n900, n8000 models
An electrical connector, is an electro-mechanical device used to join electrical terminations and create an electrical circuit. Electrical connectors consist of plugs (male-ended) and jacks (female-ended).
The connector associated with this device :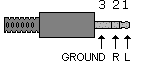 3 pin stereo plug connector