J3 connector pinout
Pin
Number
Pin
Name
Description
1,7
V3
+12V
2,8
G3
Ground
3,9
V5
+12V
4,10
G5
Ground
5
G1
Ground
11
V2
+12V
6
V1
+12V
12
G2
Ground
It's for most Mac Pros, the problem with the power supplies is that you have to match part of the serial number as well as the part number.
Part number is usually: XXX-XXXX
The serial number is: XXXXXXXXEEEX. The last 3 of 4 letters or numbers is the version number of the PSU. This must match or they don't always work (thanks Apple). It's called the EEE code.
This pinout is for the 980Watt unit.
C connector pinout
Pin
Number
Pin
Name
Description
1,6,7
+3.3V
2
Ground
3,4,9
+5V
5, 10
Ground
8
PSU_ON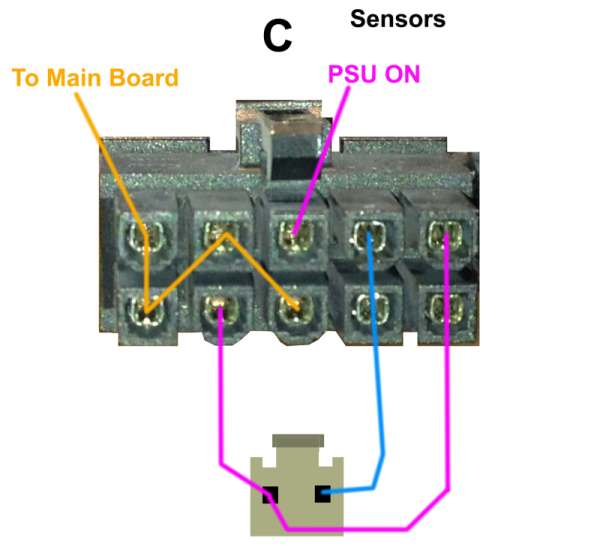 Mac Pro 1.6GHz Core 2 Duo (A1186) - Mid 2006 MA356LL/A
Mac Pro 2.0GHz Xeon (A1186) - Mid 2006 MA356LL/A
Mac Pro 2.26GHz Xeon (A1289) - Early 2009 MB535LL/A
Mac Pro 2.66GHz Xeon (A1186) - Mid 2006 MA356LL/A
Mac Pro 2.66GHz Xeon (A1289) - Early 2009 MB871LL/A
Mac Pro 2.8GHz Xeon (A1186) - Early 2008 MA970LL/A
Mac Pro 3.0GHz Xeon (A1186) - Mid 2006 MA356LL/A GS177101
Mac Pro 3.0GHz Xeon (A1186) - Mid 2007