HP iPAQ 510 Voice Messenger pinouts
The connector/pinout information may be applied to the vendor
HP
, model iPAQ 510 Voice Messenger in category Headsets and Headphones
There are 2 pinouts found for HP iPAQ 510 Voice Messenger.
The pinout (pin-out) is a cross-references between the contacts (pins) of an electrical connector and their functions. The pin outs diagrams are listed below.
Click for details
Universal Cell Phone 3-pole (mono) headset connector pinout

MRLG 4-pole 2.5mm headset connector pinout
The Hewlett-Packard Company (commonly referred to as HP) or shortened to Hewlett-Packard was an American multinational information technology company. It developed and provided a wide variety of hardware components as well as software and related services to consumers, small- and medium-sized businesses (SMBs) and large enterprises, including customers in the government, health and education sectors. An electrical connector, is an electro-mechanical device used to join electrical terminations and create an electrical circuit. Electrical connectors consist of plugs (male-ended) and jacks (female-ended).
The connector associated with this device :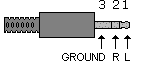 3 pin stereo plug connector